DO YOU WANT DURABLE, LIGHTWEIGHT AND CUSTOM SKI POLES?
THEY WILL MAKE YOU STAND OUT FROM THE CROWD AND EVERY ONE WILL ENVY YOU ....
YOU DESERVE THE BEST POLES
NO DISAPPOINTMENT GUARANTEE
🎋NATURAL - SUSTAINABLE - STRONGER 🎋
Handcrafted with extreme quality, eco-friendly and designed for skiers who are seeking the product that can set them apart. 
We strongly believe in evolution as a process of improvement and of listening to people's needs to guarantee great and reliable products that exceed expectations.
Poles with an unquestionable charm!
Soft Touch Ergonomic Grip – large rubber ergonomic support surface for comfortable grip in any hand, even in most challenging terrains. No matter how long you have to hold it, your hands will fill happy!
Polyester Strap – moisture-wicking clean and comfortable strap, made of 100% recycled polyester resin. Choose between fixed length or adjustable strap to fit your hand size for even higher security and better handling.
BAMBOO Shaft – stronger then aluminium and carbon shafts and yet eco-friendly and sustainable. Forget about traditional manufactured poles that bend, kink or snap, bamboo poles will not let you down even if you are a hardcore shredder.
Laser Engraving – ADD a personal touch to your purchase. Now you can make that special gift for your friend even more meaningful, or you can personalize your new poles with a favorite catchphrase. Be unique, be custom, be personalized.
Interchangeable Basket – mountain basket or powder basket, black or green, now you can adapt to every snow condition. Just screw on and off. Excel with adjustability to suit any terrain.
Carbide Tip – beside much stiffer than steel, carbide tip provides better pole planting and perfect traction especially in icy conditions. Enjoy secure performance in all conditions.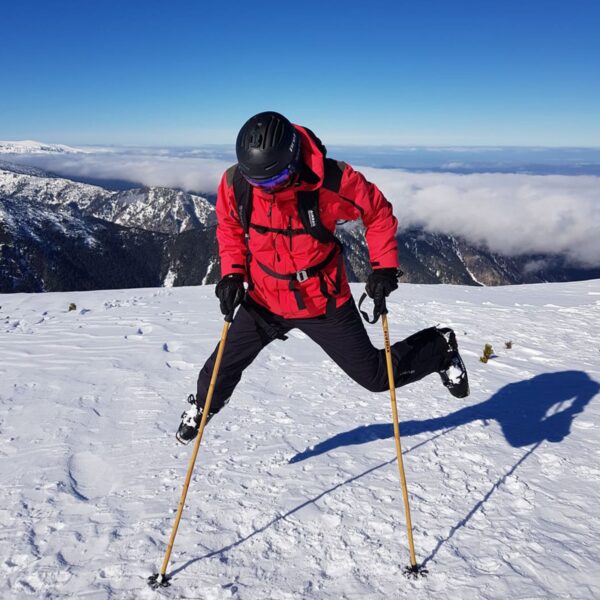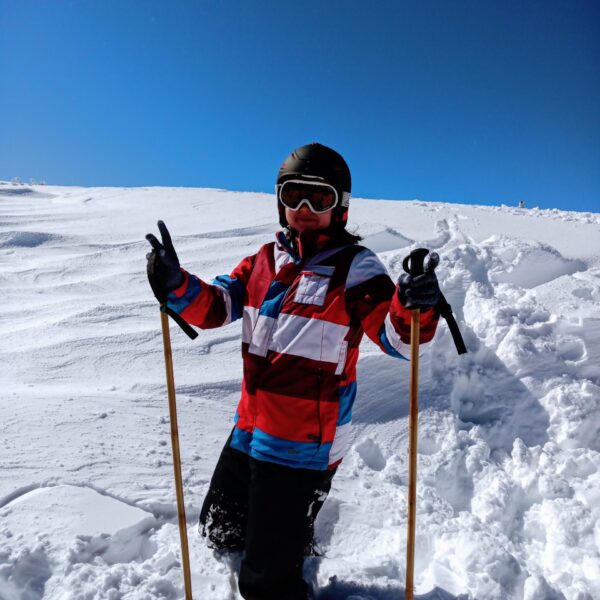 We COUNT on high quality bamboo and best materials to guarantee EXCELLENT craftsmanship.
WHAT SOME CUSTOMER SAYS ABOUT BUMBEAR POLES
🎋NATURAL - SUSTAINABLE - STRONGER ⛷
Choose between BLACK, GREEN, RED, BLUE, PINK or CORK grip. Made from rubber/cork, features ergonomic design for maximum comfort, happy hands guarantee.
INTERCHANGEABLE BASKETS – FIVE colors and TWO sizes. Go with BLACK, GREEN, RED, BLUE and PINK color in 10cm/4″ mountain size basket . Or shred deep POW with the 12cm/4.75″ POWDER basket (only in black color).
While traveling to different ski slope locations around the world, BUMBEAR founder Andre Ferry witnessed the CLIMATE CHANGE AND THE GRIM PREDICTIONS OF DISAPPEARING ALPINE SNOW in real.
What began as a simple idea, turned to a ECO-FRIENDLY SKI POLES made of bamboo, with a mission to shift the conventional mindset that man made synthetics are always better, which also are reasons for some ecological disasters.
In a quest to respect the environment
YES I WANT PAIR OF BAMBOO SKI POLES
HANDMADE BY OUTDOOR ENTHUSIASTS WITH NATURE IN MIND
BAMBOO IS BETTER BECAUSE ITS:
✅NATURAL ✅SUSTAINABLE ✅STRONGER
IF YOU BUY NOW, YOU WILL GET
PAIR OF HANDCRAFTED BAMBOO SKI POLES
(€98 Value)


with CARBIDE TIPS

with interchangeable 4" BASKETS

with Soft Touch Ergonomic GRIPS

with 100% recycled polyester fixed length STRAPS

with 2 YEAR GUARANTEE on all ski poles

✅ Personal Laser Engraving ✏️ (€15 Value)
✅ E-book "THE 10-MINUTE SKI FITNESS WORKOUT" 📙 (€7 Value)
✅ BONUS: €15 OFF for future purchases 🎁 (€15 Value)
🏷 TOTAL OFFER VALUE - €132
💰2 YEAR WARRANTY on all ski poles
YES I WANT PAIR OF BAMBOO SKI POLES
HANDMADE BY OUTDOOR ENTHUSIASTS WITH NATURE IN MIND
BAMBOO IS BETTER BECAUSE ITS:
✅NATURAL ✅SUSTAINABLE ✅STRONGER
✅ PAIR OF HANDCRAFTED BAMBOO SKI POLES ⛷
➡️ with CARBIDE TIPS
➡️ with interchangeable 4" BASKETS
➡️ with Soft Touch Ergonomic GRIPS
➡️ with 100% recycled polyester fixed length STRAPS
➡️ with 2 YEAR GUARANTEE on all ski poles
(€95 Value)
FREE BONUS
✅ Personal Laser Engraving ✏️
(€15 Value)
✅ E-book "THE 10-MINUTE SKI FITNESS WORKOUT" 📙
(€7 Value)
✅ PAIR OF HANDCRAFTED BAMBOO SKI POLES ⛷
➡️ with CARBIDE TIPS
➡️ with interchangeable 4" BASKETS
➡️ with Soft Touch Ergonomic GRIPS
➡️ with 100% recycled polyester fixed length STRAPS
➡️ with 2 YEAR GUARANTEE on all ski poles
(€110 Value)
FREE BONUS
✅ Personal Laser Engraving ✏️
(€15 Value)
✅ E-book "THE 10-MINUTE SKI FITNESS WORKOUT" 📙
(€7 Value)
💰2 YEAR WARRANTY on all ski poles